Tsonjin Boldog
Chinggis Khan is not only known our Mongolian national hero, but he is known as a middle century Conqueror. He united all Mongolia in middle century. He is still said one of the 5 paxes, conquered through the world such a Macedonia Alexandra, Bonaparte, Hitler and so on. Even though he conquered half territory of the world, it is said having great cultural and historical significance transferring to the world. That is why the complex of Chinggis Khan was built. It takes 54 km from Ulaanbaatar. Each tourist who travelling in Mongolia goes to there, staying during the day.
Chinggis Khan Statue Complex takes 54 km from Ulaanbaatar, locating in a natural beautiful area and close the Tuul river in Erdene village in territory of Tuv province. The place is very historical area, mentioned many times in Mongolian main book, Secret History of Mongolia; once when Chinggis Khan was a young, he found a whip which is a main tool for Nomad Mongols by using horse riding and protect self and hunting animals. He thought blessed by heaven his future dream by uniting Mongol tribes on day. That is why the big Statue of Chinggis Khan dedicated to the right spot, found a whip symbolically.
---
Terelj national park
Gorkhi terelj Natural Park. Gorkhi Terelj Natural Park takes 70 km from Ulaanbaatar city. It is the closest beautiful natural protected area, covered 1.2 million hectares, inhabited over endangered species of moose, brown bear and weasel, to name but a few, and to over 250 species of birds. The Tuul River flows through the park. In this meaning, it is one of the special protected areas in Mongolia; meanwhile, there are running fluent of biological and natural sciences projects and tourists activities for decades such as hiking, rock climbing, swimming (in icy water), rafting, horse riding and, for hard-core extreme sports fanatics, skiing in the depths of winter.
Attraction of the place- The Park also has a Buddhist monastery, named Enlightment Monastery, and also named energy center, locating middle of the big mountain front, can reach there by walking and hiking for few km. The park has many rock formations for rock climbers, and includes two famous formations named for things they resemble: Turtle Rock.
Tourists can make a hiking tour, horseback riding tour around this area.
---
Khustai National Park
Khustai National Park takes about 100 km from Ulaanbaatar to the west. The place is one of the strictly protected areas, operating for conserving ecosystems, biodiversity of the park and historical stone monuments, build up takhi population in the wildlife. The main attraction why guests arrive there is wild horse, endangered species. Takhi is unique wild horse, revealed by Russian scientist Przewalski, so the species has named with this scientist name of Przewalski. The area has birch forest, 450 species flora and 126 species birds and other fauna such as red deer, gazelle and wild boar. Since 1992 by running the project of Holland and Mongolia for inhabitation the wild horses in Mongolia, today the number of population is over 500s.
---
Piece of sand dunes (Elsen tasarkhai)
Elsen tasarkhai (piece of sand dunes) It is a remarkable place, sand dunes hills, and located middle of the mountain and steppe zone, from North West to south east. It is a very close semi Gobi area for guess who want to see Gobi natural attraction shortly. There are beautiful natural attraction with high Khugnu Khan Historical Mountains, tells the history of Zanabazar who was our first Bogd, behind the sand dunes and Gobi bushes on the dunes. There is also an old temple close to the Khugnu Khan Mountain. Tourist can do hiking and horseback riding and camel riding tour around this area.
---
Khar-Khorum city, Erdenezuu Monastery
Khar-Khorum city, Erdenezuu monastery, Khar-Khorum historical and archeological museum, nice natural area with big river and valley, are the main attraction why we arrive there. Erdene-Zuu monastery, built in 1585 by using remains of Khar-Khorum city is also the main sightseeing place. Khar-Khorum city is our Mongolian first capital by Chingis Khan.
---
Tuvkhan monastery
It is a mysterious monastery, hidden top of the high mountain, in middle of forest. Founded by Mongolian Buddhist and sculptor Zanabazar, the Monastery tells our interesting history. He found this place in 1648 m, and started meditating from 1651, then in 1654 and when he was 19 years old, the complex of monasteries were built. So the place was called "Paradise palace". In the top of mountain, in the monastery, there are nice sightseeing such as hand carved cave for meditating and a mother womb cave, symbolically said rebirth once in and out this, two different colored pure water well, natural strange shaped trees etc.
---
Eight lakes (naiman nuur)
Khuis (Umbilical cord) eight lakes takes 115 km from Arvai-Kheer center province and 450 km form Ulaanbaatar. Even though the road to eight lakes is uneven but often arrive there by riding horse from North West side. Umbilical cord eight lakes are quite center point in Mongolia, the altitude is 2400 meter, in middle of mountains. The most percent of territory covers of Uyanga village and bounded with Bat-Ulzii village on the west side. And also the territory of this attraction covers of some of the Orkhon valley. Because on the north side of the area of lakes lava rocky steppes, so no more density of nomads.
There are Shireet, Khaliut, Buga, Khaya, Khuis, Mukhar, Duruu and Bayan-Uul named lakes and the lakes connected each other with water vein in underground. The distance of the lakes is 500 meters to 3 km. In the estimation in 2007, the two lakes are almost dried and 10 % of the biggest lake, Khuis has dried.
Khuis eight lakes has magnificent range of mountain soil, and has coniferous, larch and Siberian pine forest. In this zone, it is a homeland of Grey wolf, red deer, wild boar, marmot, tree squirrel, hackee, white hare and steppe mouse with a long tail. Also there are 50 species birds and recorded endangered species of birds such as Himalayan griffon, Eurasian griffon. In this place also recorded 18 species of mammals, 39 species of birds, and also growing abundant of rare floras. The area is very suitable for hiking and horseback riding.
---
Tsenkher hot spring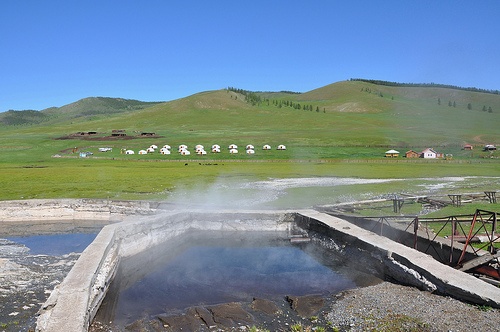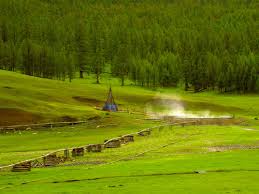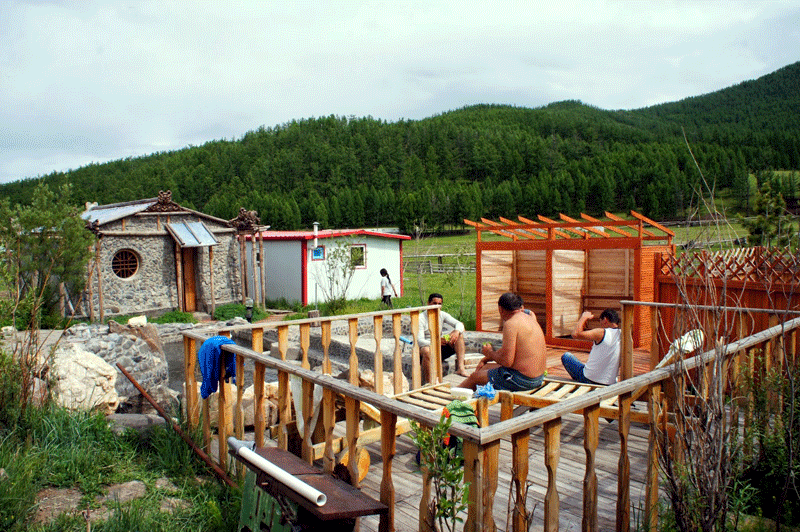 Tsenkher hot spring is the second hot spring in Mongolia, having alkalinity quality, flowing with 86.5 degree hot from earth deep. It comes 10 liters in per second. It contains of minerals of hydro sulfuric acid, silicone etc, and also can treat rheumatism, muscular pain, arthalgia, articulation sore, skin diseases, diabetes and so on. Tsenkher hot spring is located middle of the forest zone mountain. Guests are able to have a bath, spring water coming from hot main spring by transferring tube, while, hot cooling down.
---
Orkhon waterfall
It takes 130 km from Kharkhorum city, on the west side of the Orkhon River which is one of the 4 big rivers in Mongolia, originated from tectonic movement by this area, water falls from 22m. The waterfall flows from Khangai mountain range until Kharkhorin through the lava rocks canon. Because of the mountain zone, tourists can see the grazing group yaks. From Orkhon waterfall to the west, it is very suitable to make hiking and horseback riding tour for reaching the eight lakes, located on top of the big beautiful mountains.
---
Ugii Lake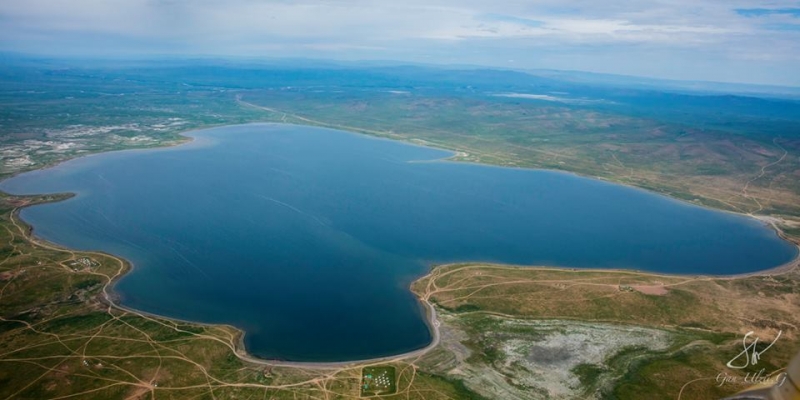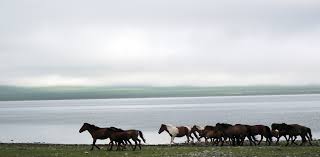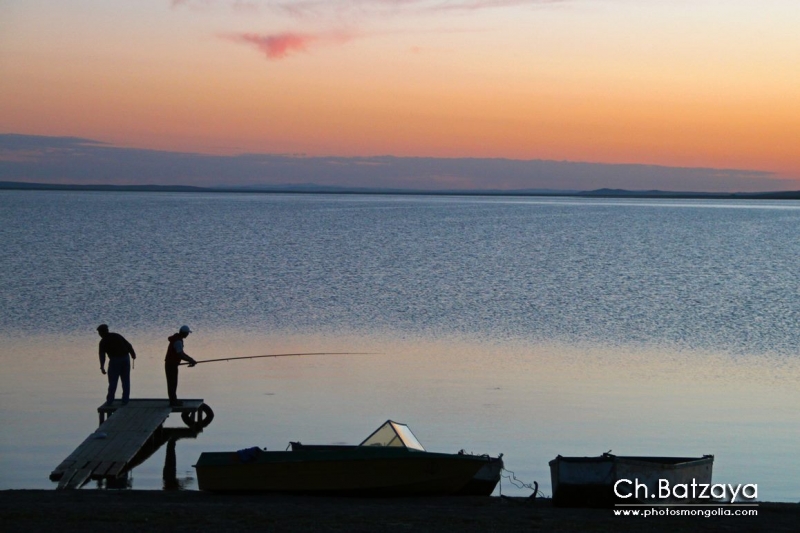 The lake, covering 25 square meter, 7 km long, 5 km wide, is situated in Ugii nuur village in Arkhangai province. The deepest side reaches up to 15m. The lake is fed from the Old (Khugshun) Orkhon river on the west side, flows into Orkhon River to the north west side. From January until May, the lake has ice surface. The lake has over 14 species fishes such as perch, luce, and gathers there 150 kinds aquatic game birds and endangered birds such as cape, barren goose, spoonbill, Dalmatian pelican. The place is quite pleasant for bird watching tourists.
---
Taikhar stone
Taikhar stone is a natural special rock, mentioned many time in the legend books of Mongolia history and fairy tales. Existing on the flat steppe, in front of Tamir river, the stone is been said with the many oral legend, about how to originated, and also written several of old scripts, estimated by 300 kinds on it.
---
Khorgo-Terkh white Lake National Park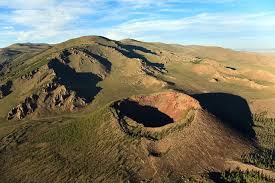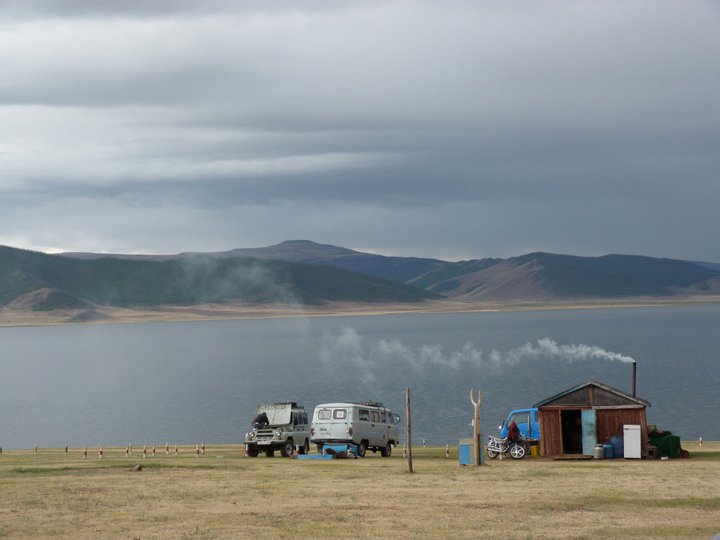 Volcano craters, named Khorgo, flowing shaped lava rocks, is one of the beautiful area in central Mongolia. From the tectonic movement there originated many strange shaped rocks, caves. The area of the lake, named Terkh, blown up from these volcano mountains, is suitable for camping, fishing, swimming and hiking, especially horseback riding to see this area.